Are you signed up?
Do you have your blinkie?
Grab it here...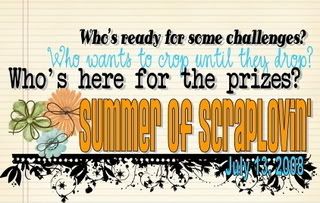 Put the blinkie on your blog, tell all your friends to come join in! This contest is the most fun you will have scrapping online with friends!!
If you are needing to replenish your supplies before the contest starts, make sure to check out the store and STOCK UP!!
RIGHT HERE!!
And have you seen the
Hello Sunshine Cosmo Cricket
taqt is up in store?? Dreamy!! Another of my faves that you can find is the
Fancy Pants overlays
....
Enough of the enabling, get stocked up and GET READY FOR THE TIME OF YOUR LIFE during the Summer of Scraplovin Contest!!